10 things you must do in Salzburg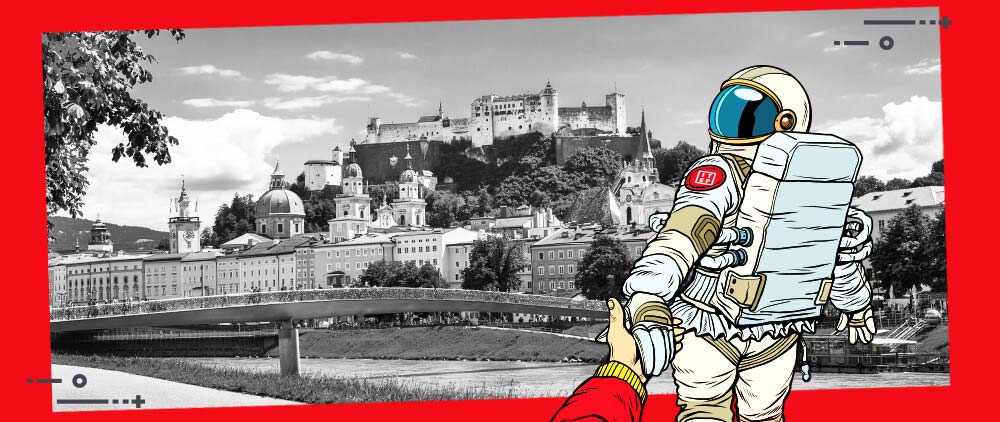 10 things you must do in Salzburg
If you're new to Salzburg, here are 10 great ways to get to know this fantastic city.
1. Fortress Hohensalzburg 
With a 1,000-year history, the Hohensalzburg Fortress towers above the city and has the most astonishing panoramic views of Salzburg, the Alps and parts of Germany. Its museum exhibitions tell stories of a millennium of wars, tradition and architecture, and the audio guide gives you an exciting tour of its rooms and landmarks. Take the leisurely ride up on the funicular or earn a beer at the top with the short, steep walk up.
2. Augustinerbraeu
Right next to our headquarters in Augustinergasse is the Augustiner Braeustueberl, a traditional brewery where, until relatively recently, monks brewed a very palatable beer since 1621. Now a tourist favorite, the tree-lined garden in summer and the atmospheric beer halls in winter are the perfect spot to get to know the rest of your team and meet new people. Simply pick up a small or large stein as you enter, pay for your beer then watch your kellermann pour the liquid gold straight from the barrel. As the beer hunger strikes, buy a snack or full meal at one of the kiosks in the food hall. You're also welcome to bring your own picnic if you're prepared enough.
3. Bosna
If you live in Salzburg, you absolutely must have a traditional bosna. This Salzburg version of a hot dog consists of two pork sausages, onion, oregano, mustard, all served in a roll. In a small walkthrough off Getreidegasse is the best bosna in town: the Balkan Grill.
4. Mirabell Garden
The beautiful Mirabell Garden has one of the best views of the Festung, framed by unicorns, dwarves, lions, gods and a splendor of flowers and fountains. It's a wonderful place to take a few moments of quiet and relaxation.
5. Sound of Music Tour
The world-famous movie is a mystery to most Salzburgers. People from all corners of the planet make the pilgrimage to beautiful Salzburg to see Sound of Music filming locations and film sets. Join one of the many tours to sing along to its popular songs and visit Mondsee, Hellbrunn and endlessly recognizable places in the Salzkammergut.
6. Mountains
Whether you are an absolute beginner or an experienced mountain soul, there is climbing, via ferratas, backcountry, skiing, snowboarding, mountain biking and hiking for everyone. Try something simple like the Maria Alm, with its dream view over Salzburg, or give Gaisberg a go. Nockstein is great if you're feel gutsy, and it has a magnificent panorama over the Salzkammergut and its crystal-clear lakes.
7. Lakes
With over 200 lakes in Salzburg, you're sure to find a favorite. In summer, enjoy swimming or a boat trip, and in winter, go for the ice-skating and a cup or two of gluhwein.
8. Red Bull Hangar 7
An architectural masterpiece at Salzburg Airport, Hangar 7 is home to an exciting collection of airplanes, helicopters and Red Bull Racing Formula 1 cars. And the best bit is Hangar 7's restaurants and cafés with impressive menus and divine dining in a truly unique location.
9. Mönchsberg
Our Augustinergasse HQ backs on to the bottom of Mönchsberg's cliff, which rises up into a quiet hill of pathways, meadows and forest walks. It's the ideal spot for a few minutes' thinking time or for a creative walk-and-talk with your team. Stop off at M32 modern art museum for a coffee with spectacular views of Salzburg's spires, fortress and old town.
10. Schranne
Every Thursday, the parking lot in front of the Andrae church brings the colorful hustle and bustle of a farmers market: stock up on fresh fish, fruit, vegetables and fried chicken or just stop by for a glass of wine. You can pick up almost all local products at the Schranne, which apparently knows no culinary limits.