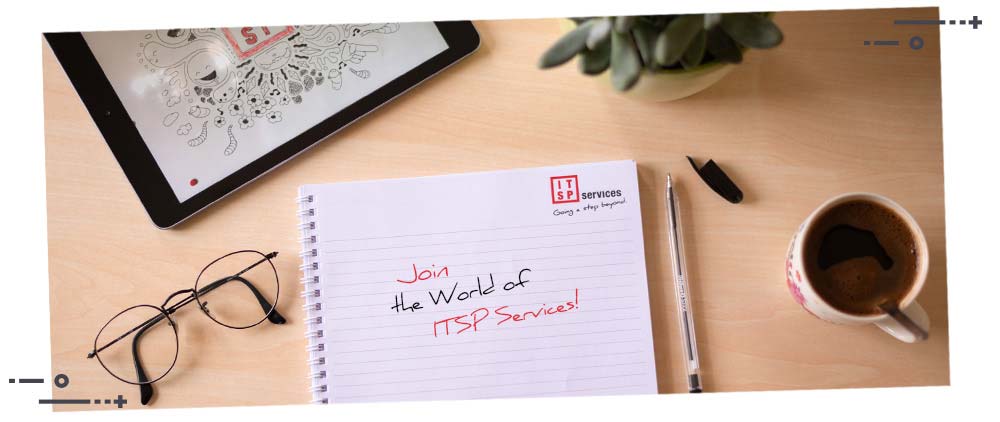 How will your work place look like?
Initiative application
Are you a proactive, forward-thinking professional who's always on the lookout for opportunities to make a difference? Our rapidly-growing company is eager to hear from you! We're excited to announce that we are actively inviting initiative applications from talented individuals who are ready to bring their skills, experience, and passion to our team.
At ITSP Services, we believe that innovation thrives when fresh perspectives and creative minds come together. That's why we're always on the lookout for exceptional talent from a diverse range of backgrounds and industries. No matter what your area of expertise, we're eager to learn how your unique abilities can contribute to our growth and success.
What we offer:
A dynamic, inclusive work environment where you can contribute to groundbreaking projects and initiatives.
Opportunities for personal and professional growth, with access to mentorship, training, and development programs.
Competitive compensation packages, including benefits and other perks that recognize your hard work and dedication.
A company culture that celebrates diversity, encourages collaboration, and fosters continuous learning.
The chance to make a real impact on our organization and the lives of those we serve.
Who we are looking for:
Individuals with a strong track record of success and a passion for learning and growth.
Creative problem solvers who aren't afraid to take risks and push the boundaries of what's possible.
Effective communicators who can work collaboratively with colleagues across different departments and disciplines.
Self-starters who can take the initiative and thrive in fast-paced, evolving environments.
Professionals who are committed to making a positive impact, both within our organization and in the wider world.
How to apply
If you're ready to take the leap and embark on an exciting new journey with our company, we invite you to submit your initiative application. To help us understand your unique strengths and potential contributions, please include the following:
A cover letter detailing your motivation for applying, your relevant skills and experience, and how you believe you can contribute to our company's growth and success.
A current resume or CV highlighting your educational background, professional experience, and any notable achievements or accomplishments.
Any additional materials (such as a portfolio, LinkedIn profile, or personal website) that showcase your work and demonstrate your expertise.
Our HR team will carefully review your submission and contact you if we feel there is a potential fit for our company. Don't miss this unique opportunity to join a company that values innovation, collaboration, and the power of diverse perspectives. We look forward to hearing from you and exploring the possibilities together!